Location

Hong Kong

Client

The Hong Kong Jockey Club

Awards

RIBA International Award 2021
HKICON: Regeneration Award 2019
UNESCO Asia Pacific Awards for Cultural Heritage Conservation 2019
HKIA Special Architectural Award : Heritage and Adaptive Re-use 2019
HKIA Merit Award of Hong Kong 2019
The Hong Kong Green Building Council Green Building Award 2019

Shortlist

World Architecture Festival Awards: Completed Buildings (Culture) 2019
A historic complex framed by near impenetrable walls and contemporary high-rises has been transformed into a thriving landmark of cultural exchange; the single largest conservation and adaptive re-use project in Hong Kong's history.  
The transformation of the former central police station into a world-class centre for heritage and arts has created a vibrant new civic space in the heart of the city's central business district…[tackling] a complex site with multiple layers of history… enhancing its legibility and opening it up to the public
— UNESCO award Jury
As Heritage Consultants and Conservation Architects, Purcell worked collaboratively within the international design team, educating, guiding and informing the conservation and evolution of this nationally significant landmark.
16 historic buildings were adapted across the 6-acre site - three of which are Declared Monuments – and two new buildings by Herzog & de Meuron introduced, with new wayfinding routes, entrances and enhanced open spaces.
Formally opened on the 25 May 2018, Tai Kwun had its 1,000,000th visitor within the first four months.
16 historic buildings were adapted across the 6-acre site - three of which are Declared Monuments – and two new buildings by Herzog & de Meuron introduced, with new wayfinding routes, entrances and enhanced open spaces.
Formally opened on the 25 May 2018, Tai Kwun had its 1,000,000th visitor within the first four months.
0%
"Pushing the envelope of conservation, the project is an exemplar for adherence to standards of best practice, ensuring minimal intervention and reversibility. Recognised regionally for its excellence, the project is a triumphant model for Hong Kong's promising future in conservation."
— RIBA International Awards Group
Tai Kwun is the largest collection of historic buildings and monuments on a single site in Hong Kong.
Tackling this monumental adaptive reuse project required a multifaceted approach to conservation, one that depended on fastidious research and sustained, engaged work with the relevant government bodies to balance preservation and change.
The combination of successfully conserved heritage and new architecture creates an intentionally new – yet familiar – cultural beacon for the city that is relevant to today's HongKongers.
For the last 170 years, what was to become Tai Kwun has evolved and changed, with the city of Hong Kong growing to loom above and around the once-impenetrable fortress.
Today, 16 historic buildings remain - three designated as Declared Monuments - across the 6-acre site.
A key challenge was how to transform a site designed as a fortress into a permeable and embed the site into the urban fabric.
These changes included removing three existing but non-significant buildings to allow for the new arts facilities, preserving public squares, two new arts facilities and a new foot bridge to link with the iconic cross-city Mid-level's escalator.
The strategic masterplan retains the historic integrity of the site whilst creating a vibrant new public space in the heart of the Central District.
0%
There was a recognition that to be sustainable in the long term the site had to deliver more than a restored former Police Station Compound, and this informed the decision to include new interventions as part of the centre for heritage and arts. 
The site needed to be knitted back into the city so that local people could easily access it, regarding it as part of their daily lives and returning again and again.
On a site that was conceived and built as a fortress, it was imperative to find ways of embedding the buildings back into the city, without compromising the cultural and structural significance of the imposing walls that surround the historic fabric.
The design approach utilises existing entry and exit points to selectively curate pedestrian access and wayfinding. 
Creating new entrances and connecting to the mid-level escalator entwines the site with the surrounding urban fabric. Each intervention is balanced against the wider benefit to the site.
0%
A fundamental part of the brief was to retain and adapt the 16 historic buildings.
Strict building codes made the successful introduction critical engineering services within historic buildings a significant achievement; elements such as fire services and mechanical, electrical and plumbing engineering were all crucial to retaining and reusing the protected spaces.  
Replacing like-for-like fabric out of respect for historic buildings required skilful negotiation in an area more commonly supportive of rapid development, and where the availability of skilled craftsmen was limited. Tai Kwun has in part been a catalyst to revitalise lost and dying traditional and colonial building craftsmanship, with over 200 local tradespeople employed over the course of the project, helping ensure it's lasting legacy for conservation in Hong Kong.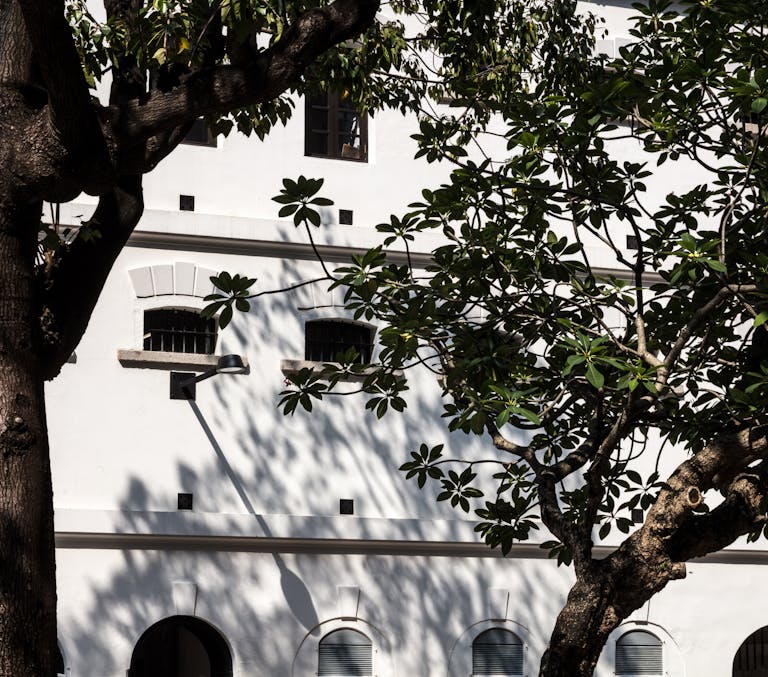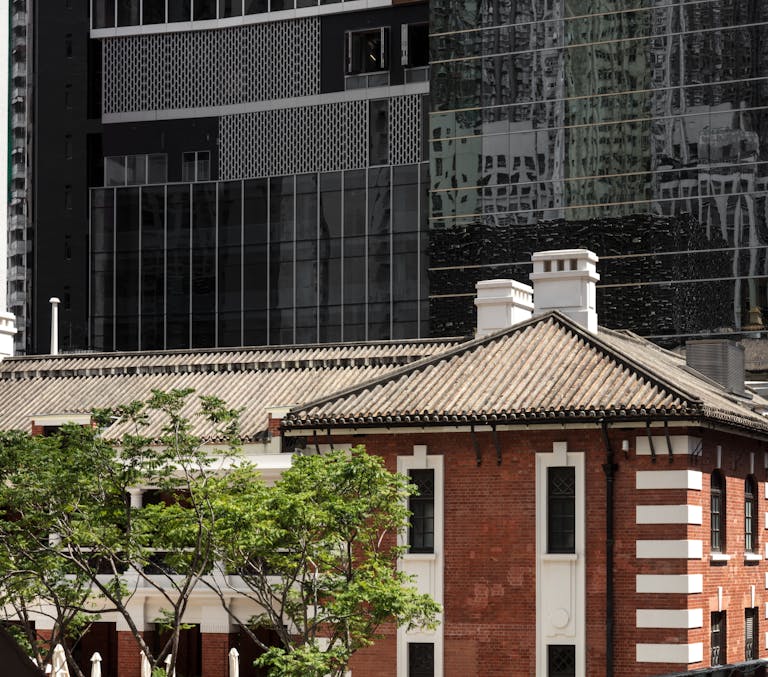 The sites authentic restoration has been achieved by the team's meticulous attention to detail to preserve and enhance its significant features.
Tai Kwun is a valuable social and economic asset to Hong Kong, counting 3.6 million visitors by its first anniversary.
As an immersive, cultural and social hub, the venue is relevant to a diverse range of visitors whilst providing a place for locals to engage with Hong Kong's history and legacy through various educational heritage workshops, interpretation programmes, events and performances.
The project is the result of a unique partnership between the Hong Kong Special Administrative Region's governing body and The Hong Kong Jockey Club, and was funded with a HK$3.8 billion capital investment facilitating a 10-year commitment to the site's operation on a not-for-profit basis.
0%
It sets the benchmark for excellence in the restoration, revitalisation and adaptive reuse of historic structures in Hong Kong whilst operating a sustainable model that generates income to support the site's ongoing preservation. Today, this preservation carries on as we continue to work with Tai Kwun Facilities Management, carrying out periodic inspections and delivering routine maintenance and repair projects.
The centre's diverse and creative programming enlivens the historic space with engaging heritage interpretation programmes and contemporary arts and culture. Against tremendous commercial real estate pressures, the successful realization of Tai Kwun stands as a testimony to Hong Kong SAR's commitment to heritage.
— UNESCO Award Jury