Location

East

Client

Cambridge University
St John's College was founded in 1511 and is one of the largest colleges at Cambridge University. Purcell was appointed to carry out a feasibility study and subsequently develop detailed proposals to carry out a variety of works to the E Stair, New Court building.
The refurbishment of Grade I-listed E Stair, New Court has seen the sensitive insertion of a lift, renewal of all services, external conservation repairs and internal reordering to adapt the staircase to suit modern requirements, whilst retaining and restoring the original quality of the building for exclusive fellows' use.
Working closely with the design team, including an interior designer, and the client team, the project was procured using construction management, with the construction manager attending all design team meetings and inputting on buildability and programme.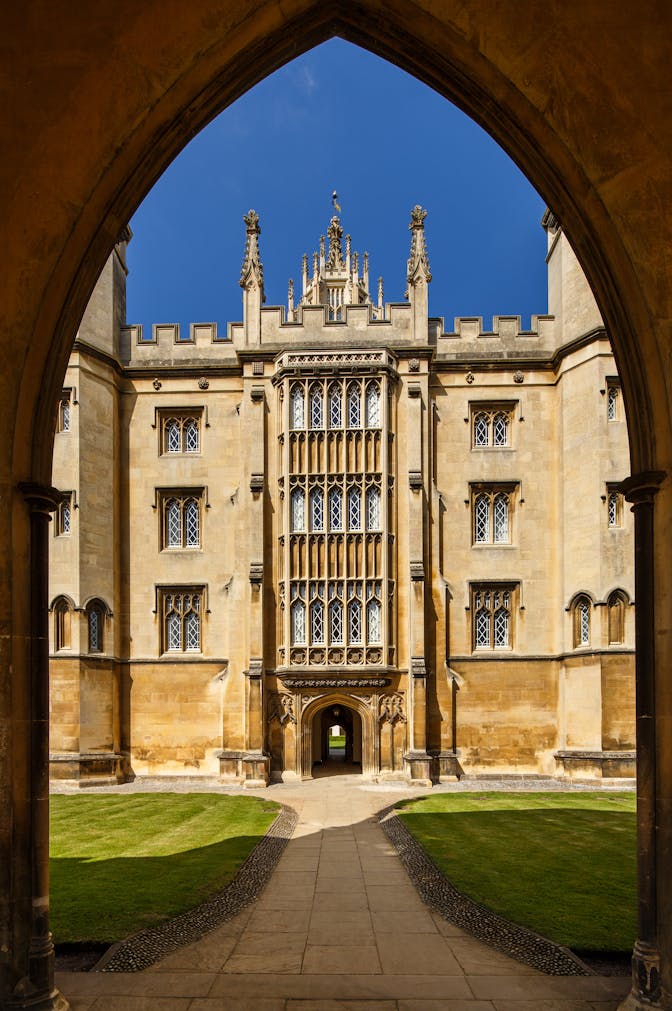 The insertion of the lift required a sensitive approach. The intention was to introduce a new lift to provide access for wheelchair users to all floors. Careful analysis against the HIA and in conjunction with the conservation officer and Historic England determined that there was only one suitable location for the lift, which did not impact on the quality of the space of the existing spiral stair. The most significant constraint on the shaft were the walls at basement level, so a motor room-less lift was proposed and successfully installed.
Key to the success of the project was the ability to provide en-suite shower rooms to all fellow's sets. This was achieved by utilising the small turret rooms on the four corners of the building, and intricate space planning has provided shower rooms to all sets. An ingenious secondary glazing system with opaque glass provides privacy and enables the fine original timber windows to be retained.
Lighting to the significant central spiral stair was poor, and a new improved scheme was developed in conjunction with the electrical engineer. This provides much improved lighting via a bespoke slimline light fitting, where the light source rather than the light fitting itself is seen, thus not detracting from the simplicity of the spiral stair and iconic lantern above.
The project was completed in April 2018, on time and to budget. Throughout the various aspects of the project — repairs, reinstatement of the original plan on the ground floor, interventions such as the lift — we effectively delivered a solution that met the requirements of the college's brief whilst understanding heritage significance. This not only minimised the impact of change, but actively met the college's future needs.