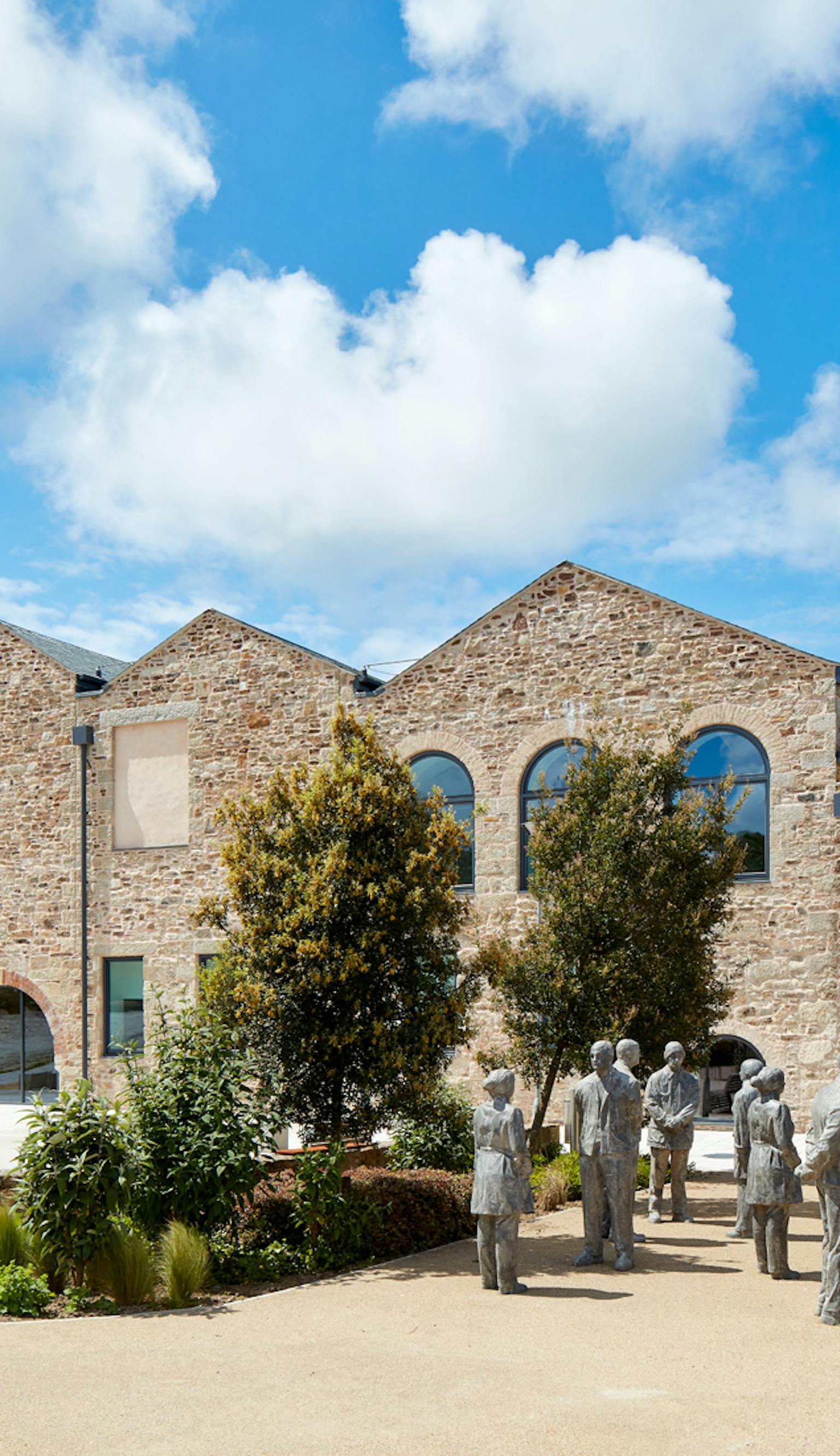 Location

South West

Client

Cornwall Council

Awards

RIBA South West Award 2021
Planning Award: Design Excellence 2021
Civic Trust Award 2020

Shortlist

AJ Architecture Award: Culture 2021
AJ Retrofit Awards 2021
RICS Social Impact Awards South West: Heritage 2020
RICS Social Impact Awards South West: Leisure 2020
Civic Trust Award: Selwyn Goldsmith Award for Universal Design 2020
Purcell led the restoration, conversion and extension of the derelict Redruth Brewery, now considered a beacon for heritage-led urban regeneration.
Set within the UNESCO 'Cornish Mining' World Heritage Site, Kresen Kernow (Cornwall Centre) Archive and Local Studies Centre brings together the largest collection of historical documents and objects chronicling the people, places, history and culture of Cornwall and the Isles of Scilly over the past millennium.
To house 14 miles of shelving containing over 1.5 million records and 850 years of history, the design team challenged traditional concepts of a staid archive by uniting distinct historic character and fabric with imaginative contemporary and accessibility-led design features. Kresen Kernow's value reverberates around its local and county-wide community, safeguarding the identity, culture and history of Cornwall.
Representing well over a decade of hard work by all involved, this completely transformational project provides an important civic and cultural centre for the whole of Cornwall.
— RIBA Award judging panel
New from the old
Blighting Redruth's town centre, the site had been condemned as undevelopable. The team faced a gutted brewhouse, littered with its decaying remnants, plagued by frequent floods and underlain by former mine workings and water courses.
Yet the striking beauty of the industrial shell remained.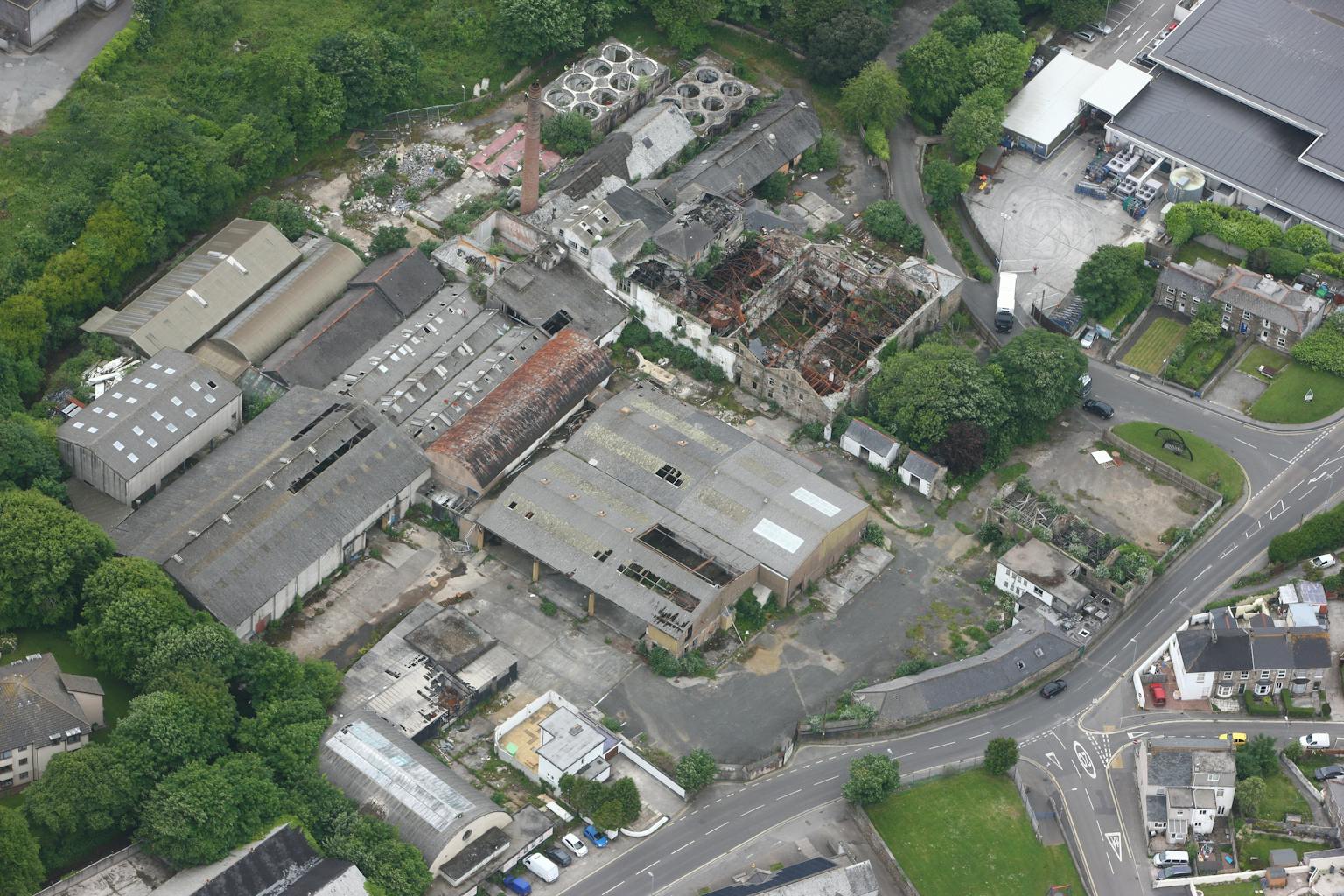 What could and should be restored and reused was analysed, mapping out the crucial aspects of the site's character.
This extensive and meticulous repair included stabilising the immense stone walls, cast iron columns and granite flag stones, and reopening windows and doorways.
Significant levels of carbon are kept by reusing this historic material, and spaces harness natural lighting and ventilation.
The restored brewery chimney – a local landmark – is kept visible across the site, framed through glazed roof and new windows.
Within the extension, the new strong-rooms are designed to the highest energy efficiency and archival standards, capable of withstanding fire and flood.
A copper spine runs across the roof ends with a dramatic picture window and point of reference for approaching visitors.
New materials were selected for their sustainability, low embodied carbon and long lifecycle.
This materiality and design forge a visual link between the new works, the historic building and Cornwall's heritage, a palette of copper, granite, and oak alongside the older stone masonry, brick, and iron.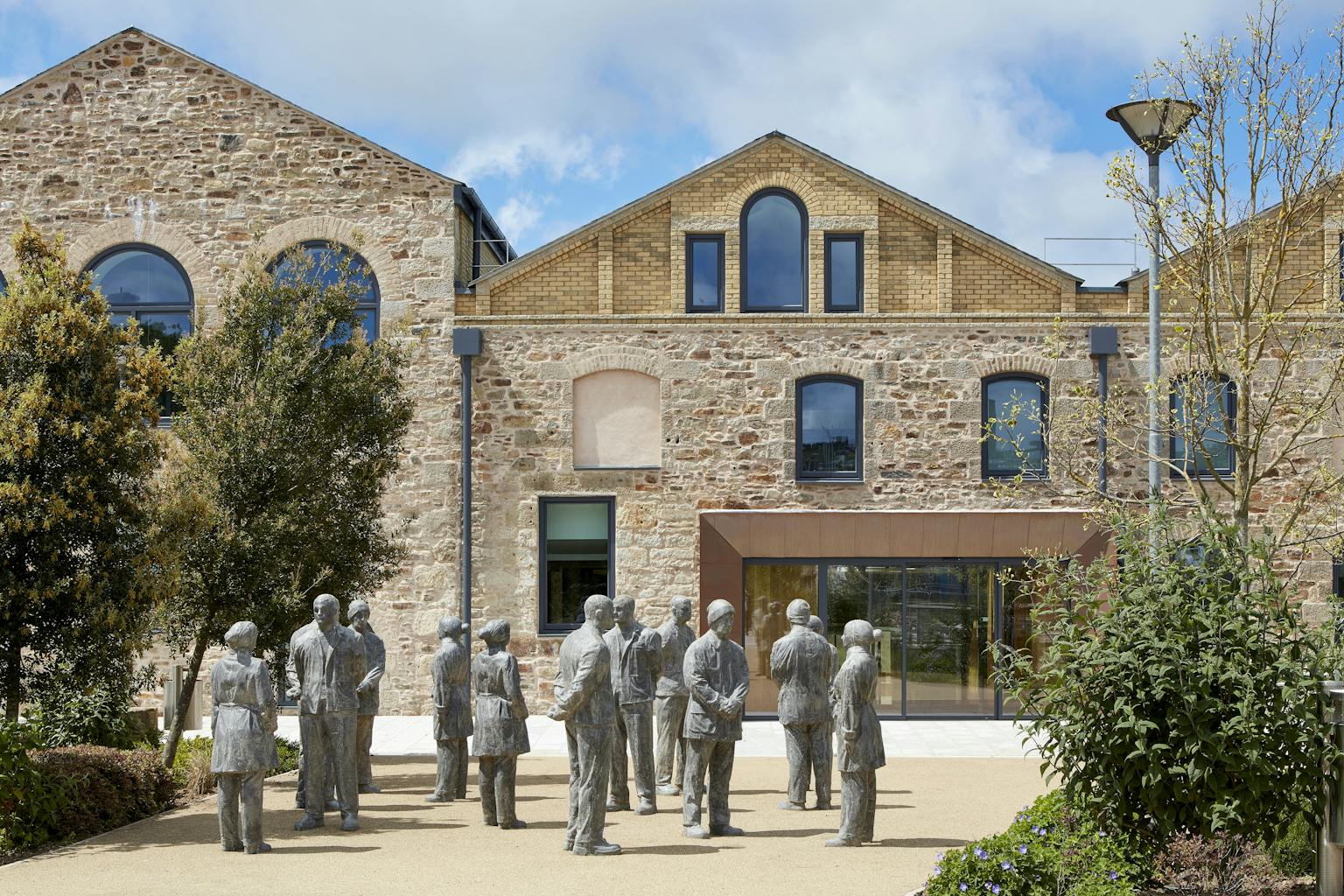 0%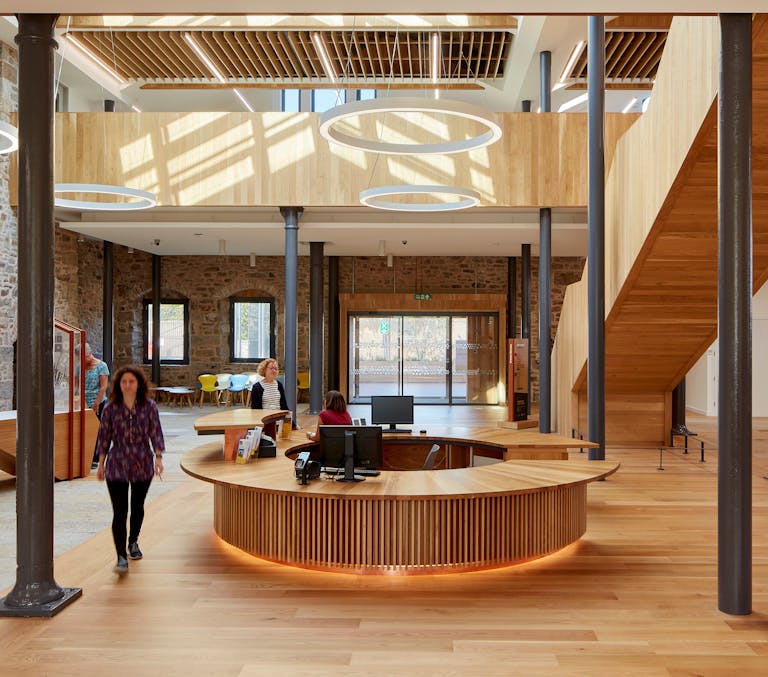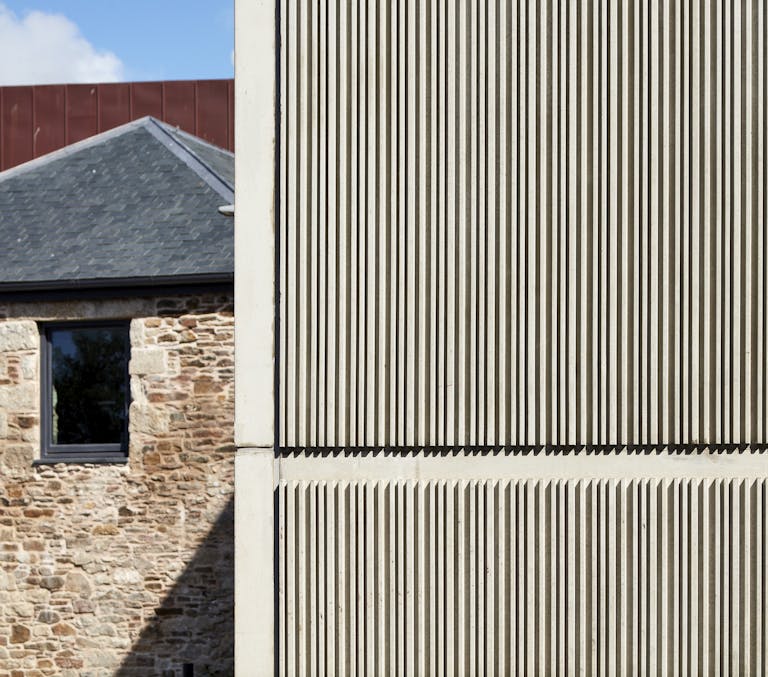 Reopened windows and doors flood the double-height interior with natural light. The archive's finely proportioned ribs of concrete cladding panels provide a striking counterpoint to the brewhouse masonry
This was an important industrial site, laid to ruin, which is now an important civic destination. It not only serves its own ends very well, but also anticipates and stitches together a number of broader urban ambitions with links to adjacent sites and the opening up and enhancement of natural habit spines and waterways.
— RIBA Judges
Creating a sense of place
Having thrived since the 12th century, Redruth suffered from the decline of mining and industry. Kresen Kernow is a catalyst for wider economic regeneration, combing a bold and imaginative aesthetic with a heritage-driven functionality, preserving and celebrating a distinct identity.
A derelict eyesore was turned into a facility that can stimulate further growth and development for the local community. The impact of its £12m grant funding, including from the National Lottery Heritage Fund, can already be felt across the town and region.
The site contained several redundant mine shafts and adits, many of which were uncharted and concealed from sight beneath the building. When added to its derelict state, Kresen Kernow's transformation became all the more challenging.
A major programme of flood alleviation, environmental and public realm works successfully unlocked the site. This involved re-routing watercourses and adits, creating a new public square with sculpture by Glaswegian artists 'Littlewhitehead', new footways stretching across the site and soft landscaping, which culminate in an accessible and attractive new urban setting.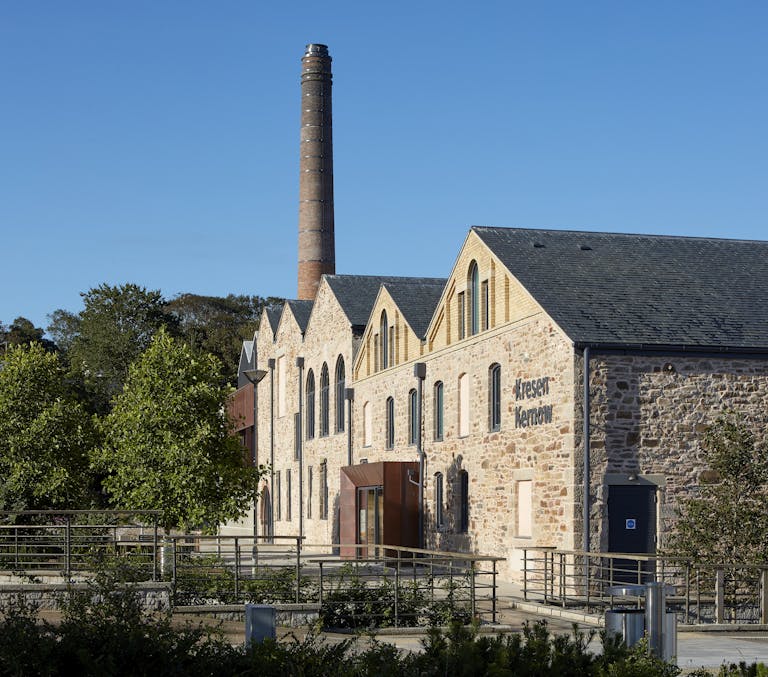 Wider flood defences and a new public realm frame the new Kresen Kernow with pedestrian walkways and tree-lined external spaces.
Community and Accessibility
Breaking the mould of the self-effacing facility used only by a privileged minority, the design of Kresen Kernow redefined the role of the archive visitor; placing interactivity, accessibility and user functionality at its heart through the profound re-envisioning of unused and underutilised spaces. Reading, education, and community meeting rooms, bursting with their own industrial character are now harmoniously interwoven alongside light-filled exhibition spaces.
These spaces dramatically expand the facility's offer and scope, providing popular, practical spaces that visitors, academic researchers, local community groups and regional businesses want to utilise and host major events within.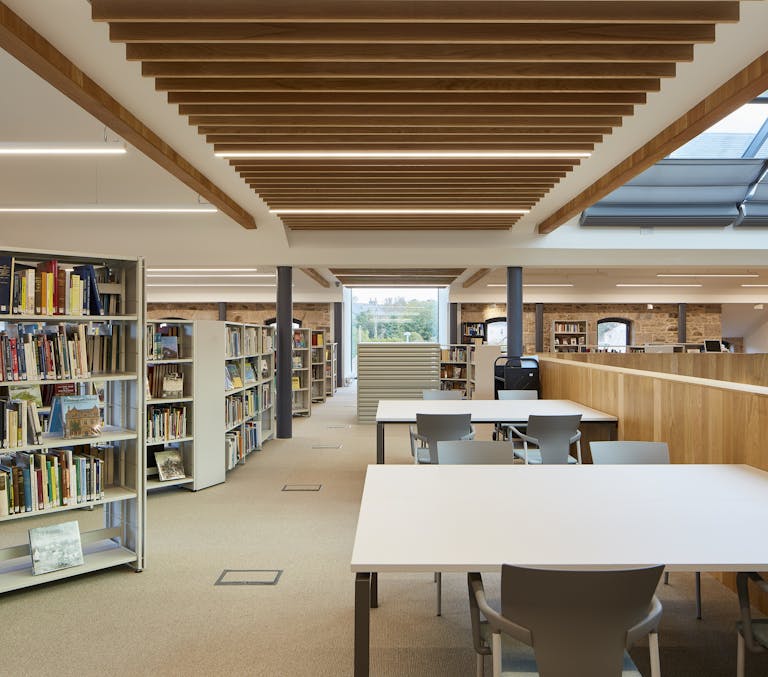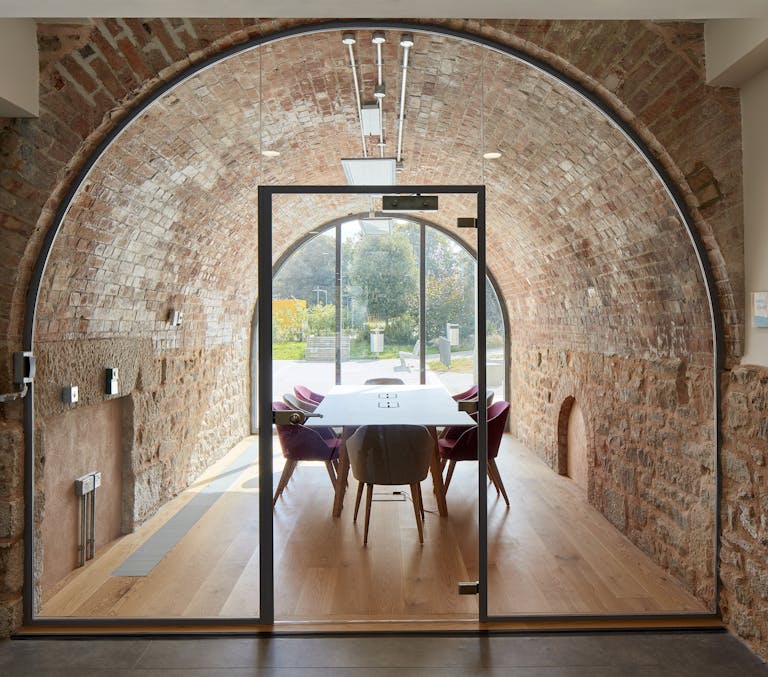 The library, and conference spaces within the archive buildings are available to hire
Exceeding social, sustainability and accessibility expectations was fundamental to the brief; the building needed to inspire and reflect the aspirations of its community. Purcell ran a series of participative design workshops for school and local community groups, in addition to the traditional planning pre-application sessions. Exploring how different users might impact the design was a critical contributor to the considerable local engagement and support this project yielded.
The wider project team worked to maximise the opportunities for training, providing work experience placements, supporting college design projects, presenting lectures and hosting training programmes. The contractor's employment skills programme contributed to local employment initiatives by taking on 11 local staff, creating 12 apprenticeship placements, hosting 6 work placements, delivering 36 training programmes and supporting 21 qualifications – all directly benefitting local people and communities.
Since opening to the public in September 2019, the staff and public have appreciated the quality of the refurbished, extended buildings, and have welcomed a diverse range of visitors, to enjoy the building, its collections and events. It's wonderful to see the historic buildings brought back to life, securing their use for others to enjoy, and providing a catalyst for further development on the remainder of the site.
— David Burne, Senior Architect
We took care in selecting our Architects, and we are pleased that we selected Purcell. They have successfully delivered the requirements of our brief and have met what we consider to be our key project objectives. The National Lottery Heritage Fund, our key partner, is delighted by the heritage and community outcomes the project has delivered.
— Deborah Tritton, Project Leader, Cornwall Council