Work to restore The George Community Pub commences
15 August 2023
Purcell are delighted to be working as Design Team Lead on the restoration of The George Community Pub, Wickham Market, Suffolk. Following an initial National Lottery Heritage Fund grant of less than £1 million, in early summer the ambitious project secured additional funding from the NLHF and associated community-focused funds, bringing their total grant award to £1.5 million.
Work has now commenced on site with contractor Seaman's.  The plans will return the 500-year-old building's main body to its historic, 16th-Century richness. Specialist skills will preserve the heritage features of the building, while the newly refitted pub will be revitalised to include a modern and energy efficient bar, restaurant, kitchen, and beer garden. 
Volunteering and support from the town's community, including local fundraising efforts, was imperative to the success of the additional funding bid. As the last remaining pub in Wickham Market, the plans to restore the Grade II-listed, 500-year-old pub – damaged by fire in 2013 - will create a much-needed social hub and preserve a significant heritage asset. 
A purpose-built and accessible community space on the pub's second floor will offer a programme of well-being-focused and social activities currently being planned for the dedicated space. Eight years of tireless campaigning and fundraising for the pub's restoration by the people of Wickham Market have shown the importance and value of the UK's pubs to local communities.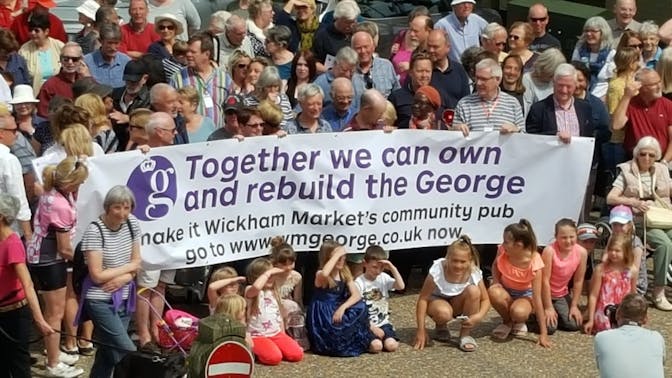 The restoration of The George Community Pub is one in a series of community-focused publican projects overseen by Purcell: earlier this year, our London studio worked on the restoration of The Old Justice in Bermondsey.